Roll over image to zoom in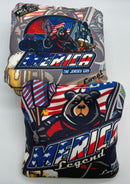 Description
Hole friendly with two distinct speeds (both faster) the Legend is soft and silky smooth around the hole. The Legend is designed to move up the board and through or around other bags. This bag is made to go in the hole!
Speed 8/10
ONLY 35 SETS MADE!
Merica Local/Jersey Guy bags
Wasn't a bad buy just wasn't what I was hopping for , but that doesn't take away from the craftsmanship and quality of the bag which are both great. Will probably end up trading.
America
The bags are great delivered ready to play. The graphics are great.
Merica.limited edition local bags
I love how they are 'ready to go' as soon as you receive them.
Quick shipping. Nice product. Thank you