Roll over image to zoom in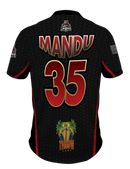 Me So Corney
Love this jersey, fits and feels great. Oh and it's always turning heads and getting awesome comments .
Love it!
Great quality and fit! Just wished the shipping was a little faster.
Me So Corny
Great job on the jerseys! Wish your woman's jerseys had the zip, but my wife loves her crew!! Thx again! Mike and Liz. West Webster Cornhole.
Perfect Stocking Stuffer!
The jersey was perfect for what I needed it for. Came out exactly how I wanted it to!! THANK YOU!!