Roll over image to zoom in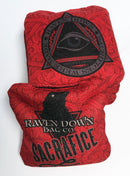 Description
This special red edition of our popular Hole Seeker series will have you running 4 baggers all day.
The Raven Down is like no cornhole bag you've ever thrown. Countless test bags laid down their lives as we sought an amazing material that feels great in your hand, plays like a dream, and is unlike anything on the market.
They're a quick bag, no two bones about that, but give you a degree of control many "speed bags" lack with a slightly slower side to use. The "All Seeing Eye side" slides nicely and finds the hole, and the "raven side," while it has a very similar feel but faster, lets you dial things back for a little more finesse.

And the material isn't all all that's unique about them – you've never seen a bag like this either! An All-Seeing Eye signifies that it's a real hole seeker, and a clever raven represents the insight to identify and execute a smart throw that'll put the bag down the hole. The background evokes the idea of currency because you're money and you know it, but they're not flashy — quite the opposite, as the dark, almost foreboding color palette means they'll never see you coming…and promptly pay the price.
We've put in place a scalable manufacturing system that will get bags out the door fast, and we're excited to see players across the country enjoying this bag. These bags meet all specifications of the ACO and ACL so you can play with them in ACO events now, and we'll secure ACL approval for their next season.
 Second release coming. Keep checking 
https://www.facebook.com/ravendownbagco