Roll over image to zoom in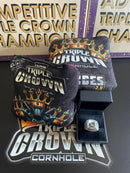 Description
This is the standard design for the new All-Slide 2.0s! These All-Slide 2.0's will be the perfect addition to your cornhole bag arsenal. One of the hottest bags in recent drop history!
NEWEST & HOTTEST BAG: Great for cutting, rolling, sliding and blocking.

PROPRIETARY PREMIUM MATERIALS: Side one is the slick fabric from our GameChanger bags. Side two is a slightly stickier slow side compared to our original All-Slides for more action and control.

AS SEEN ON ESPN: Used by top pros in regular airings of American Cornhole League (ACL) competitions on ESPN. ACL "Pro" approved bags with high control fast side / stick side speed friction factor of 94 / 74.

MADE IN THE USA: Hand-crafted from upholstery grade materials on state-of-the-art JUKI sewing machines. 1 year warranty against seem breakage.

PREMIUM FILL with PERFORMANCE MIX: Precision mix of heavy and light premium plastic resin guarantees each and every bag has the exact right weight and composition (15.85oz.)
Speed 8/10
ONLY 20 SETS MADE!